3X Select Excellent US and 3X Select Canadian Champion Pinebuck's Kidd Carson ROM, OFA Good Hips and OFA Elbows.
Date of Birth: October 8, 1998
Breeder: Eugene Warrick Jr. and Laura Mulligan
DNA Profile: V92129
Owner: Van A. Dukeman
(News: Van called me on May 8, 2005 to see how the litter was and informed me that Carson fulfilled all requirements for his ROM in April, 2005, after only 19 litters; when official word was received Van was informed that Carson was the first new male ROM for 2005. ROM is a very good indication of how well a dog produces good dogs)
Carson going Select Excellent #2 at the US Nationals in 2001: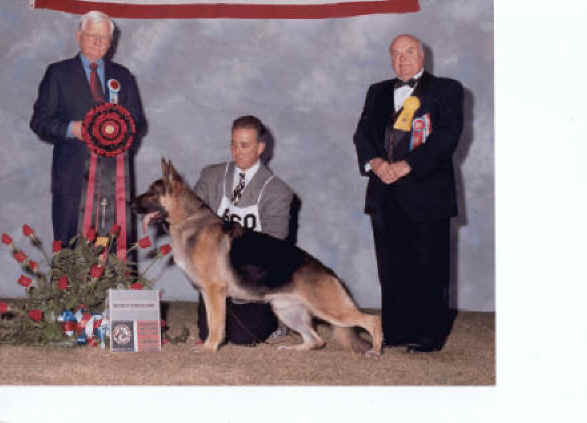 Carson going Select #3 at the Canadian Nationals in 2004: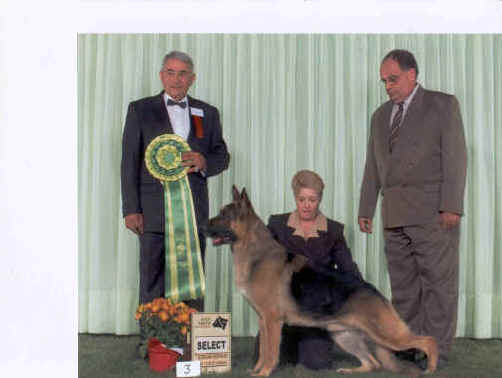 A great dog is the sum of many parts when considering whether the dog should be used as a sire in a breeding program. The dog itself, his parents, his siblings and what it has produced, should all be analyzed to include how it will mesh with the bloodlines of the dam. The following is a snapshot of Kidd Carson.
The dog himself:
Adapted from material in the 2003 Red Book:
Van Dukeman related how he purchased Carson (with the help of Mike Sherman) from Gene Warrick, the breeder, when he was a puppy. He was a very coordinated dog from the beginning, with the ability to gait around a ring at a very young age. Carson was shown very sparingly during his illustrious show career. He became a Champion in the United States in 6 shows over 3 weekends at the age of only 20 months. He became a Champion in Canada in 6 shows at only 22 months of age. Carson was both 2000 Best in Futurity (Great Lakes Region) and 2001 Best in Maturity (Southwest Region). He was not shown in either the Futurity or Maturity Finals at the National. In the four years he competed at the US National he did very well, once as a very young dog when he won the Novice class and the other three times when he went Select Excellent (2000, 2001 and 2002), including Select Excellent #2 in 2001 when he competed hard for the Grand Victor title. Canada was a similar story: shown only three times at the Canadian National he went Select three times, including Select #2, (2000, 2002 and 2004). Carson was shown very sparingly, only to finish his Championships, in the Futurity/Maturity system, and then at the Nationals. He poured his heart out in the ring and gave us great thrills. We have bred him sparingly also. He has, in many cases, produced his coordination, hard back, and beautiful rear assembly. Carson is a smart dog and is wonderful to live with; my family and I continue to enjoy him immensely.
Comments from judges:
Charlotte LaRosa: A one-piece dog. Beautiful head, wonderful bone and strength of body. Topline impeccable, nice coat. A first-class dog.
Joseph Bihari: Sex characteristics are pronounced.
Jack Newton: Beautiful shoulder action and rear drive to go with it. He moves with ease, driving well under himself and opening the front. He is the sire of the Best Puppy at this 2001 National which is a good sign for his producing ability.
Ed Barritt: A high-withered, masculine male of compact structure and a solid mid-piece. He is a smooth coordinated mover extending well.
Carson's owner, Van Dukeman, shares that Carson is known to be a tough and intelligent, though at times, stubborn dog. He has been bred to 2 coated bitches and has not produced any long coats thus he does not carry the long coat factor. His two color factors are black and tan.
Carson's parents (and bloodline):
The sire of Carson is Champion Kismet's Heart Throb ROM, OFA Good and OFA Elbows and Carson's dam is Tarahaus' Brashn' Sassy OWayside ROM, OFA Excellent and OFA Elbows. This bloodline is known for its longevity and general good health. For instance, Heart Throb is still going strong in May 2005 and will have his 12th birthday on June 4, 2005.
Carson's siblings:
Carson was from a litter of 4 puppies. All 4 are OFA Good and OFA Elbows. 3 were Select dogs in Canada and 2 were Select dogs in the USA. Carson's most famous sibling is Champion Wayside's Honky Tonk Man ("Rolf"), who was USA Select in 2001, 2003 and 2004, the latter two as Select Excellent #2 both years. In 2001, National Judge Jack Newton said: This is a quality male who is a litter brother to the Number 2 Select dog (Pinebuck's Kidd Carson). It is good to see two such outstanding dogs from the same breeding. Big news in 2005: Carson's brother Rolf goes USA Grand Victor! Not too many brothers have accomplished these many Select titles over the last 40 years.
Carson's progeny:
Here is a picture of one of Carson's sons, Eko-Lans EJM's Antonio ("Tony"); the dam was US and Canadian Select Champion Eko-Lans Havoc v Merivern OFA Hips:
: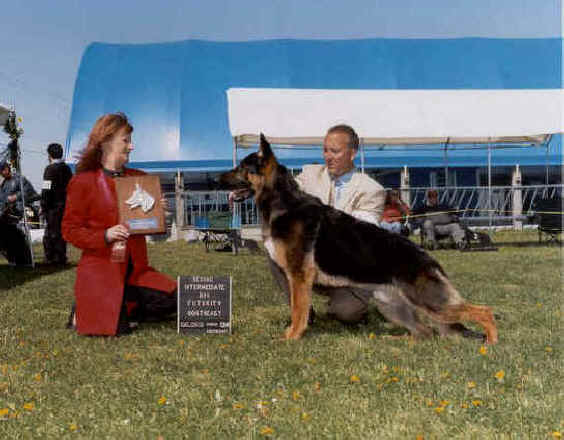 Here is a picture of one of Carson's daughters, Champion Cypress Willowlakes Kharizma ("Kizzy"), shown winning 6-9 Puppy , Best Puppy and Reserve Winners Bitch at the 2001 US National.:
Carson was bred to AOE Select Champion Carousel Farms Samantha, PT, TC, OFA H & E. and had a litter of 5 puppies, 3 of which went on to be Champions.
Here are pictures and information on the litter's 3 Champions:
PAM Ch. Carousel Farms Caisson, TD, PT, AX, OAJ, TC, OFA Good Hips and OFA Elbows: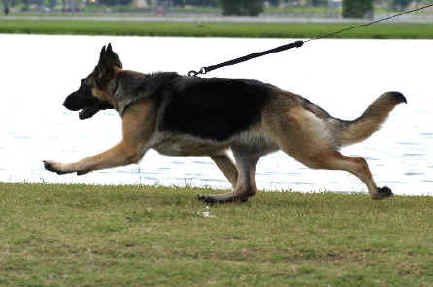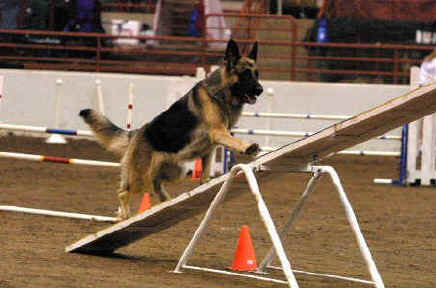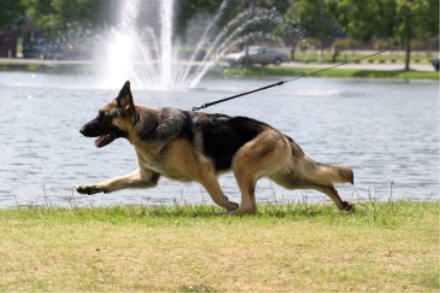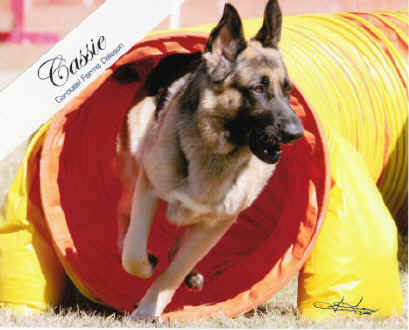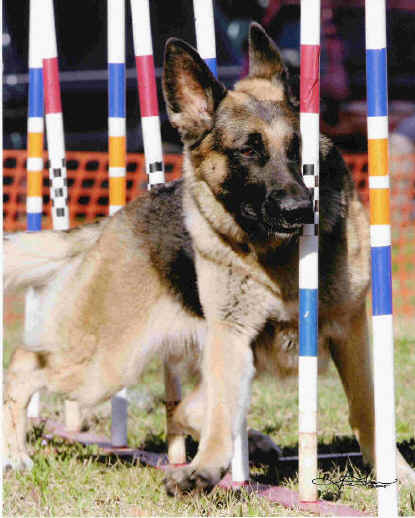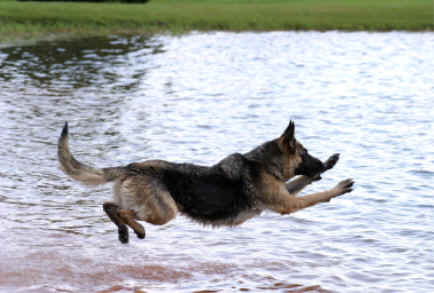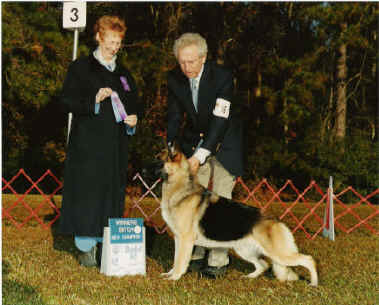 As you can see by her many titles, Champion Cassie has also been very busy in the performance sector. She is owned and loved by Julie Degen, now of Georgia. Cassie learned her tracking in Germany and came over to the US to the 2002 National to get her Tracking Title at the tender age of 9 months. The following year Julie and her husband came back from the Armed Services and were stationed in Leavenworth KS, so Julie and Cassie got to practice herding with Cassie's dam at Windy Hill Farm. Cassie is one of only 3 Ch. German Shepherd bitches to have a Performance Award of Merit (PAM), and when she received it she was the youngest one to have obtained it.
Cassie started her conformation career with Julie and went Winners Bitch at several shows allowing Julie to put 5 points on Cassie as owner handled. Then Julie handed her off to professional handlers Jimmy Moses and assistant Lenny Brown and in a very short time she accomplished receiving her AKC Championship.

BIM and Best Reserve in Futurity Ch. Carousel Farms Caitlin TD: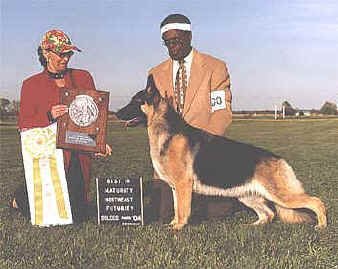 Another daughter who has titles at both ends with her tracking title. Owned by Lew and Nicky Bunch.
The third champion from this Carson litter is a male:
Best in Futurity Ch. Carousel Farms Samson Hadderway, OFA Good Hips and Elbows.