On Friday, May 6, 2005 Eagle Hill's Sail Ahead (Hedy), named for Hedy Lamar (brains and beauty) had her first litter. The sire was multiple Select Excellent US and Canadian Champion Pinebuck's Kidd Carson ROM, OFA Good Hips and OFA Elbows. See the tab to the left labeled Kidd Carson for information on this sire and his other progeny.
Hedy had 7 puppies, 5 males and 2 females in the space of 5 hours 10 minutes ending at 9:45 PM after starting at 4:35 PM. Peter slept in the whelping room Thursday night thinking maybe they would be born then. He kept a careful eye of Hedy all day Friday and then was with her Friday evening. (Peter then slept in the whelping room Friday night also, just in case the vet missed an 8th puppy, but no she had just the 7). We had no born dead puppies. Rhonda arrived back from a Washington, DC trip at 8:05 PM Friday so she was able to see the last 3 puppies born. Hedy did very well even though this was her first litter; she had easy deliveries with no drugs needed to help her on labor contractions. She started to take the puppies out of their sacs (Peter did help her here as a precaution to make sure they got out quickly); Hedy bit the umbilical cords off quite well. She then started nursing puppies right away. She has been a very attentive mother this first week, making sure our 4 other German Shepherd dogs don't come too close. We had kept the door to the whelping room closed a lot until May 13th when we leave it open a lot. Will still keep it closed at bedtime though for a bit longer.
Here are the first pictures of this litter, taken on the 7th and 8th day of their life, still in the either nursing or sleeping phase. Some of the puppies will have the normal pattern coloring of black and tan like their sire Kidd Carson and some of will have the 'dark' black and tan coloring of Hedy (and their grand-dam Smooth Sailin'). All will have the normal, regular coat structure of German Shepherds even though Hedy is a 'Long Coat', since Kidd Carson does not carry the long coat factor (each puppy gets one coat length factor from the Sire and one coat length factor from the dam, and long coat is recessive to regular coat; thus you would need two long coat factors for the puppy to actually look like a long coat, like Hedy). Notice how Hedy keeps the whelping box clear of poop for quite awhile. The puppies eyes and ears will start opening up when they are around 15 days old. At that time they will be able to walk around a bit. At 21 to 28 days they will then possibly be a lot of fun to visit with. Hedy now lives with two young dentists and has been spayed since we have been very happy with the puppies from this litter; these puppies will carry on the goals of Eagle Hill GSDs to produce healthy, athletic GSDs who fit in well in a suburban family atmosphere.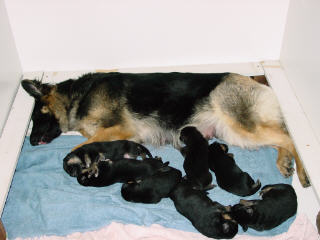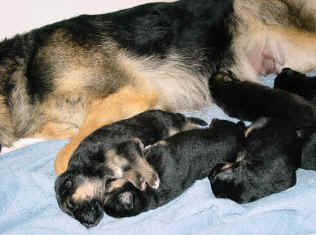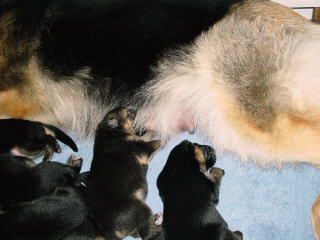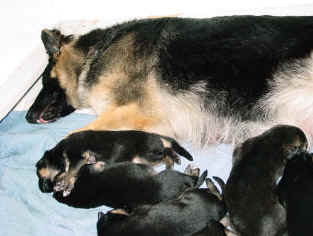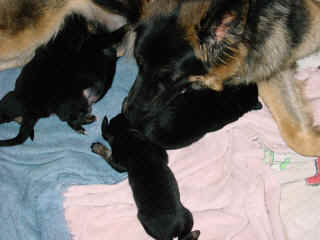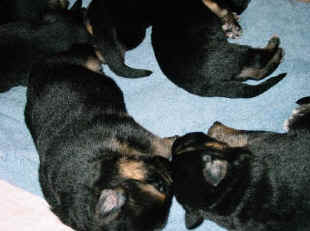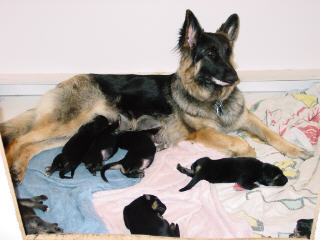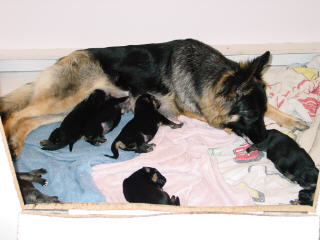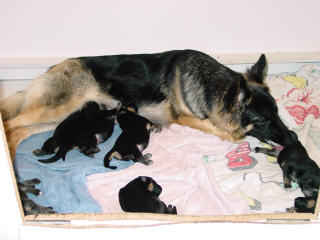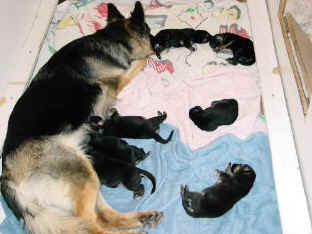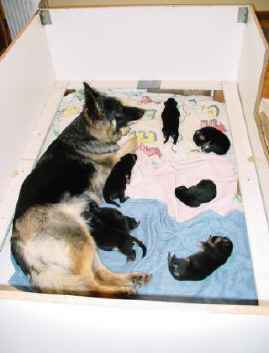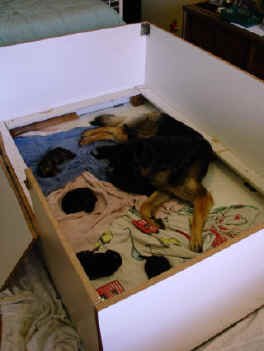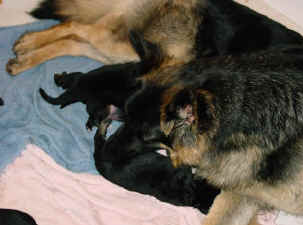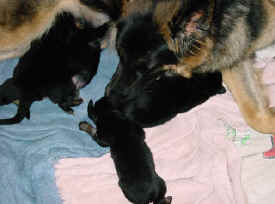 Update, May 19, 2005: Puppies continue to thrive. Their eyes are now open but
still either sleeping or nursing, and barely walking, so not ready for visitors yet! Whenever we
revise a web page we try and note that on the home page.
Update, May 21, 2005: Puppies were weighed again at this their 15th day and
they are all doing well on weight, averaging 3.5 pounds. They got their nails clipped again, for
Hedy's sake. Then we gave them their first worming, using a liquid wormer inserted into their
mouths with a syringe. Here are some pictures of the puppies today May 21, 2005, along with
some shots of their half uncle Skipper and their grand dam Smooth Sailin', waiting in the hall
way to the whelping room: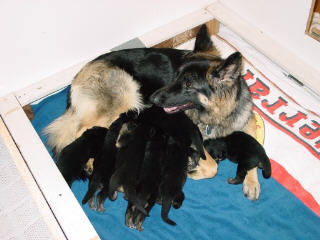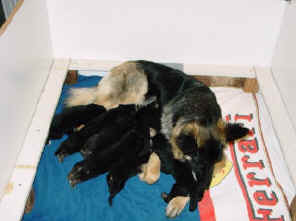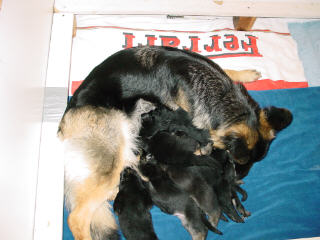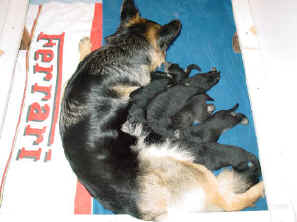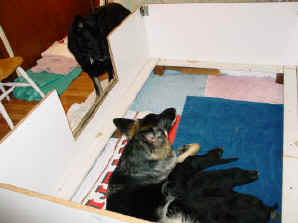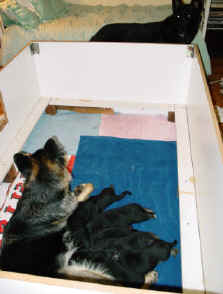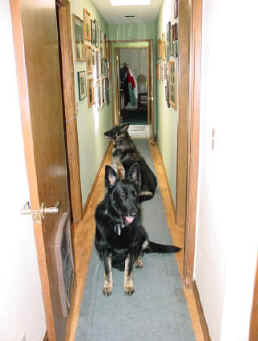 Update: May 24th: Exposed the puppies to a milk substitute on a plate.
Tried it again on May 25th and they licked a bit off of the plate. Hedy still has lots of milk but
we try and move them over to solid food as they indicate they want it. Also, on May 25th took
the puppies out to the fenced back yard for 20 minutes; lots of crying when that took place!
Update May 29th: Weighed and wormed puppies again, they average a bit over 5
pounds and are starting to walk pretty well. Eating the milk substitute out of the large puppy
pan now. They have been spending 6 hours in the grassy area, fenced backyard every
afternoon for the last few days. Their two half uncles Skipper and Cutter spend as much time
with them as they can, giving them lots of licks. Two families who have purchased puppies
from this litter came over for their first look at the puppies.
Update May 31st: Joan and Sandy, who own an Eagle Hill older female, came over
to see and socialize the puppies, who were then 25 days old. The puppies activity level
continues to grow each day. We took the following pictures that day: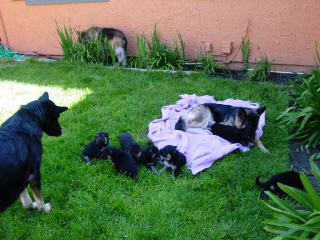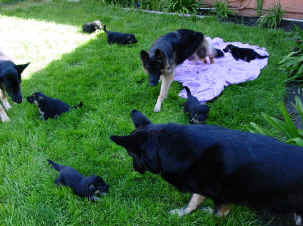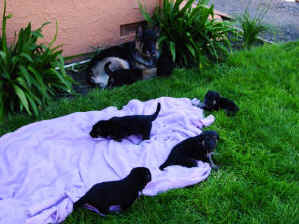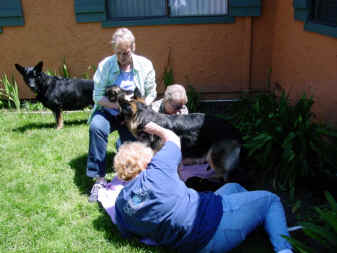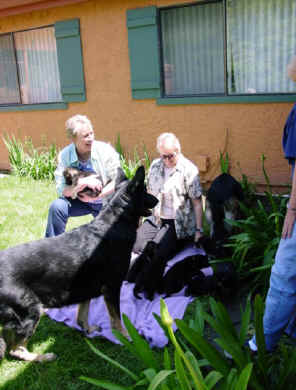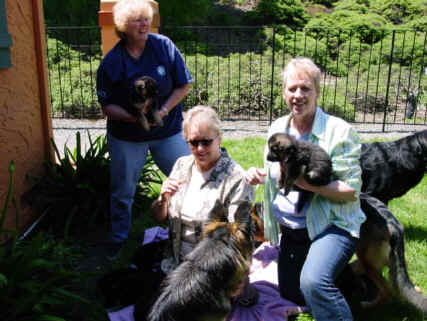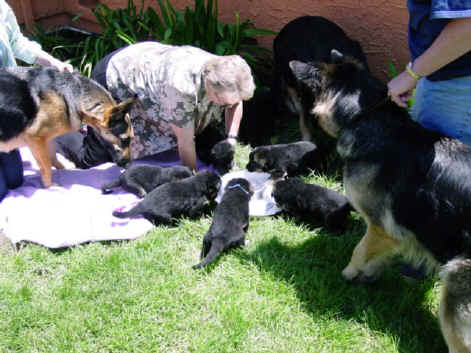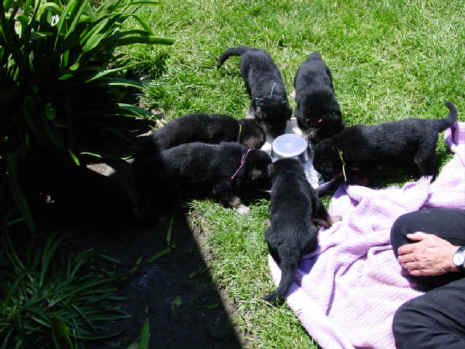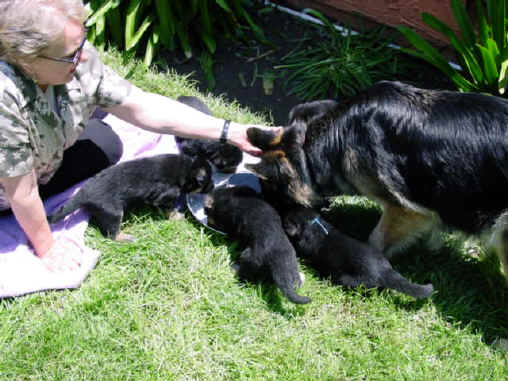 Update June 3rd: the puppies are 4 weeks old today and have been starting to
wrestle with each other for a few days. Today we mixed liquefied weaning food with their milk
substitute to continue the gradual weaning from Hedy, who continues to have lots of milk and to
be very attentive to the puppies. The last few days we have increased the time they are outside
from 8AM to 6 PM. Also, we now bring them into the TV room at 6PM into an X pen (with
some time roaming the room) so they start getting use to day to day activity.
From 11 PM to 8AM they are back into their whelping room.
Update June 7th: We weighed the puppies on June 5th and they averaged 7.5
pounds; we gave them their third worming. They will be 5 weeks old in a few days and they are
now walking around very nicely, balancing well directly on their feet, wrestling with each other
and playing with the older dogs.
Update June 10th: On June 8th we started mixing in pulverized kibble puppy food
into their liquefied weaning food. On June 10th we also gave them access to Hedy's food
dish and she let them eat out of it. Hedy's dish contained her normal water softened kibble
plus raw strips of beef from our Belted Galloway cattle. The puppies ate out of the dish with
relish. They are now exactly 5 weeks old and have increased their activity level a lot in the
last week. This week we took them for walks outside of the fenced backyard.
Update June 12, 2005: Last night, when the puppies were 5 weeks and one day old, they
spent their first night in the fenced backyard, instead of their whelping room. We had Hedy
stay with them all night there. They greeted us in the morning with tails wagging. Thus from
now on their time will be spent there and in the house. We have now decided which
families will have two males (Pierre and Martha; Ace and Corrine). We will
keep three males and two females for quite awhile until we decide which male and which
female to campaign to a championship.
We are sorry to the rest of you but many considerations go into our decision
including whether you have owned German Shepherd dogs in the past or present, whether
work demands keep you away from your dog, whether you are the type of person that will
listen to guidance from your breeder and whether we have good feelings about how you will
train and take care of your dog. We weighed the puppies today and they averaged around
10.5 pounds. We changed their colored ribbon collars to nylon collars, colors of blue, red, green,
burgundy and silver for the males and pink and white for the females. Ace and Corrine helped
us weigh and collar the puppies. Hedy continues to be a very good mother; she is even still
eating their poop today, their 37th day. Rhonda clipped the toe nails on the puppies, a weekly
occurrence to get them used to it and to make it easier for Hedy when nursing. The following
are pictures taken today June 12th:
While we have stated above how good of a mother Hedy is, she gets it from her mother, thus
here are 6 pictures of the puppies with their grand dam, Champion Sailin: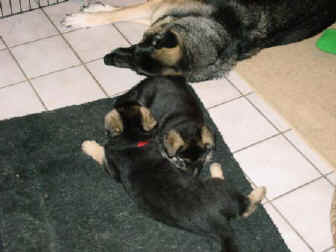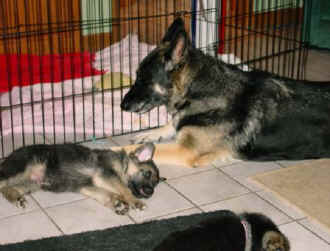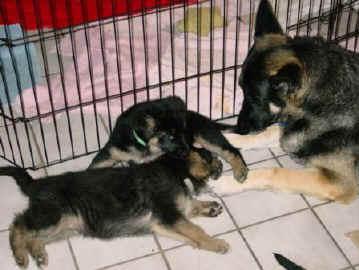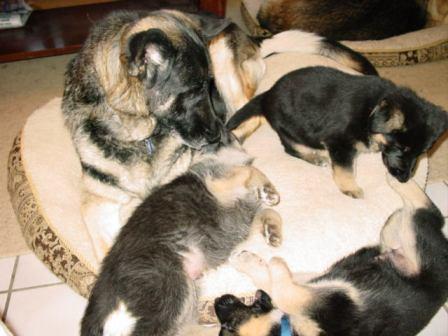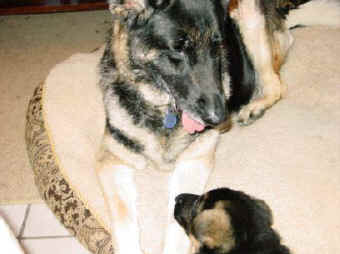 All seven of the puppies in this litter are becoming very vigorous. Here they are wrestling with
each other: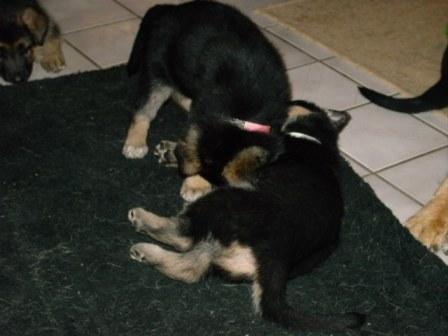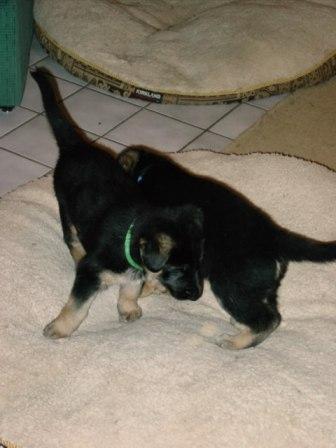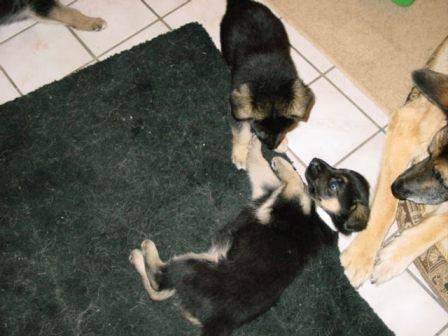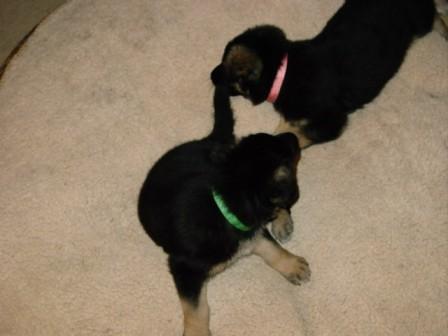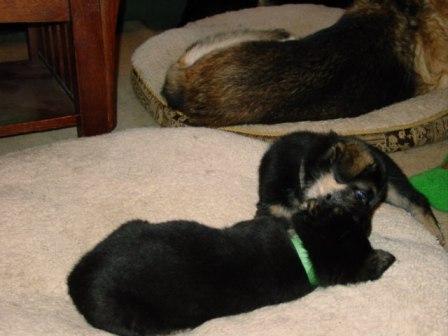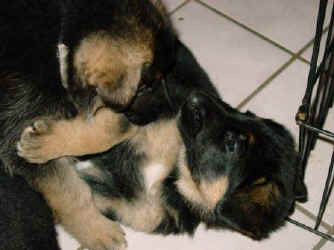 Here are some pictures of the puppies relaxing and interacting with the adult dogs along
with some scenes of the puppies nursing with Hedy: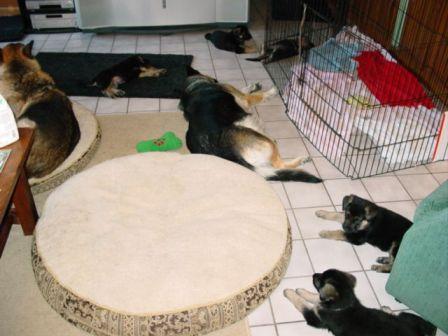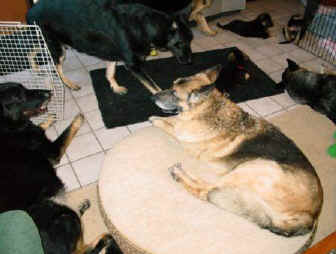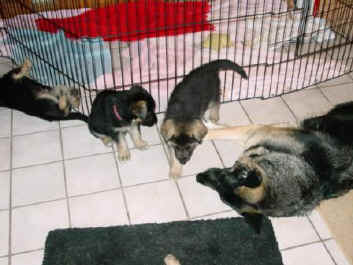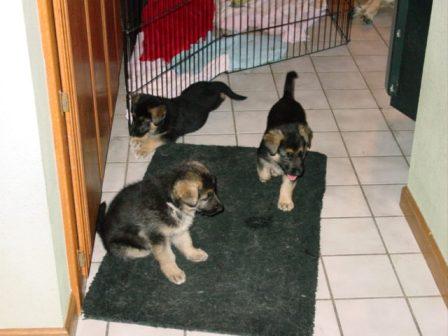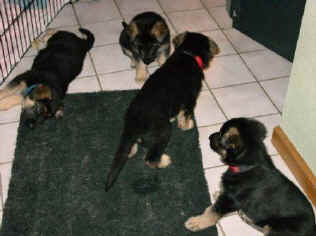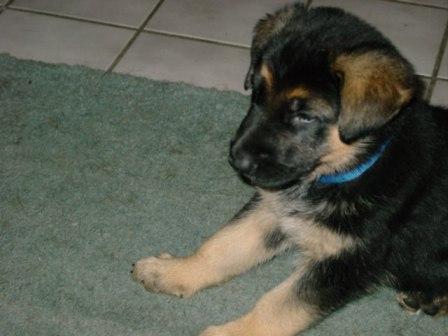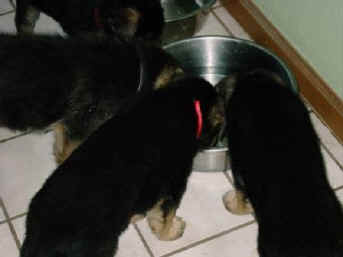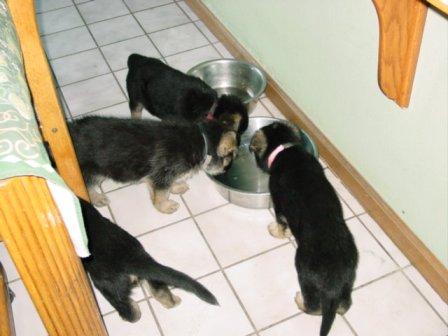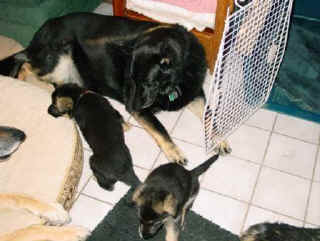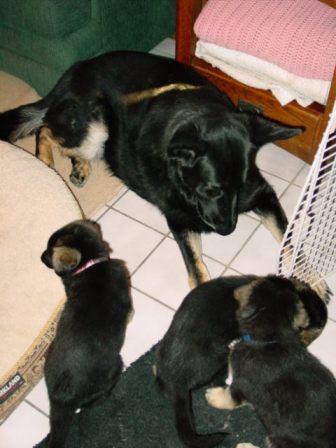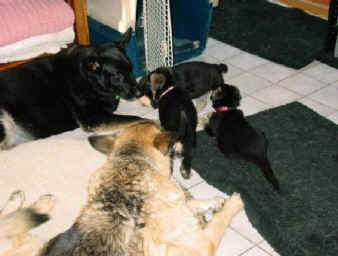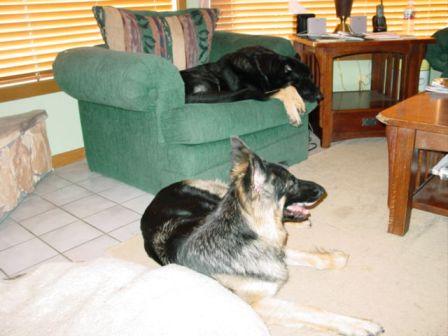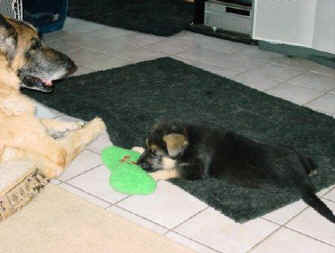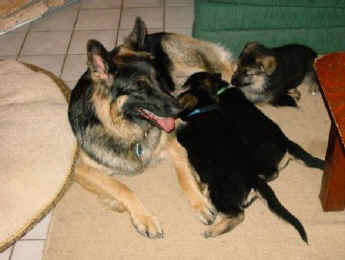 Update June 22nd::
On Saturday June 18th, Martha and two of her sons came over to play with/socialize the puppies (they
will be taking one of the males homes in July). On Sunday June 19th, Jill (who has two Eagle Hill
dogs from previous litters), her mother Nancy and her aunt Jo came over to also play with/socialize
the puppies. We also had them help us weigh the puppies (they now average 13.5 pounds) and
worm the puppies. Thanks again to both families for coming over these two days to help with
the puppies. Rhonda again clipped their nails. We took some photos on June 19th: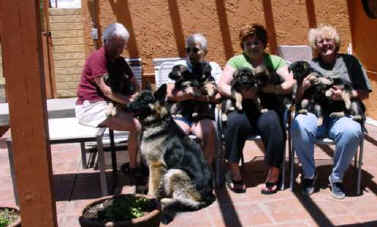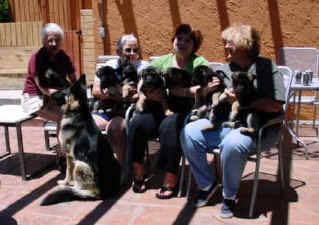 Hedy, along with left to right: Nancy, Jo, Jill and Rhonda: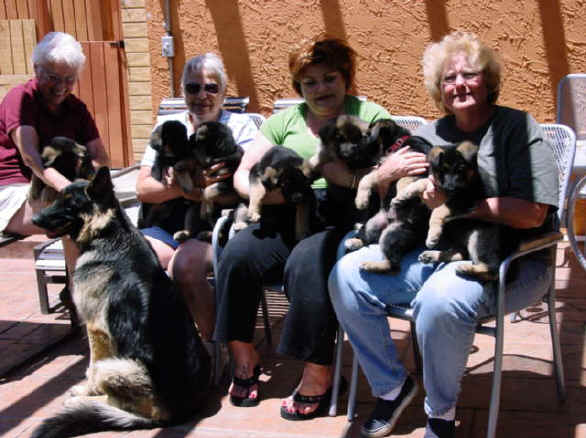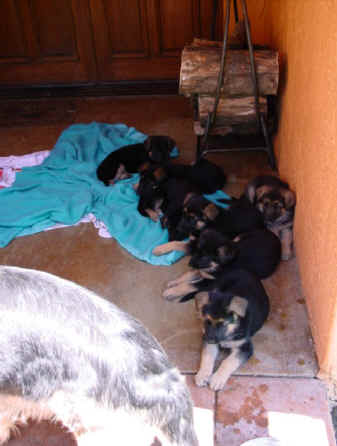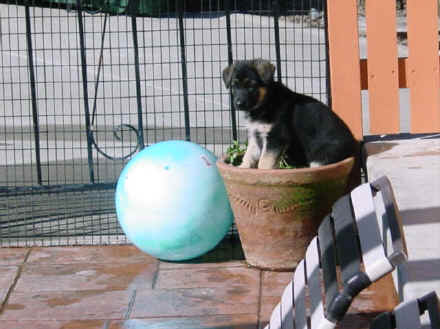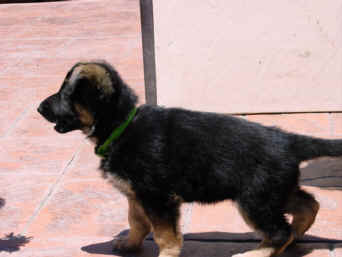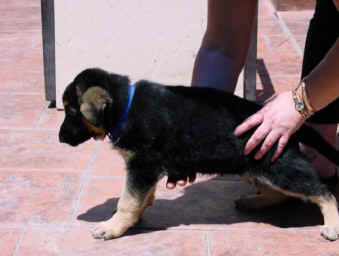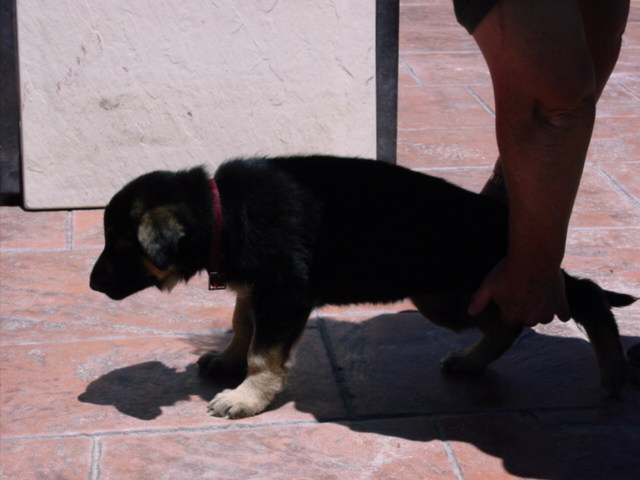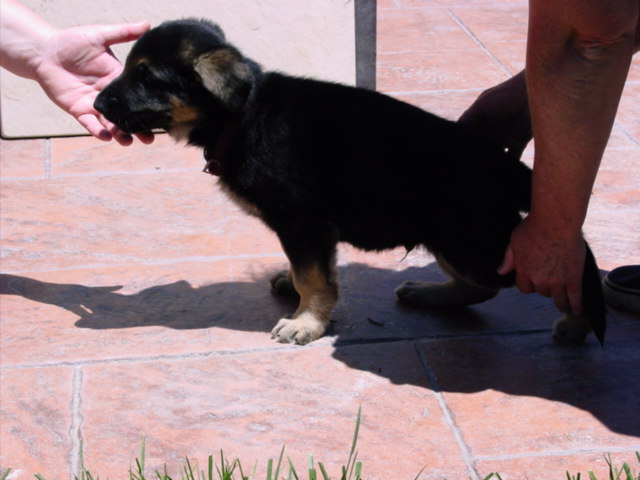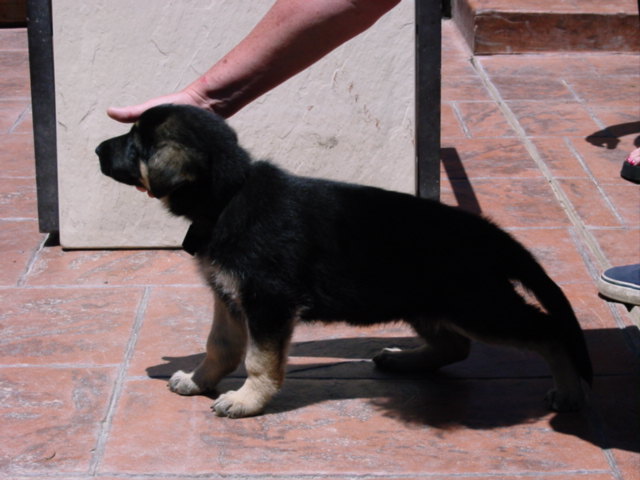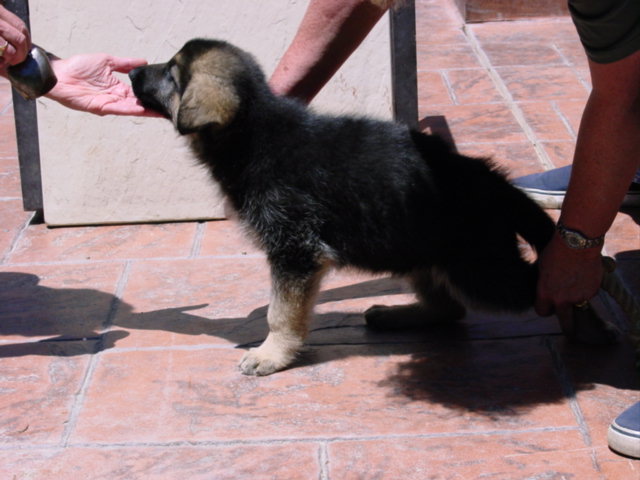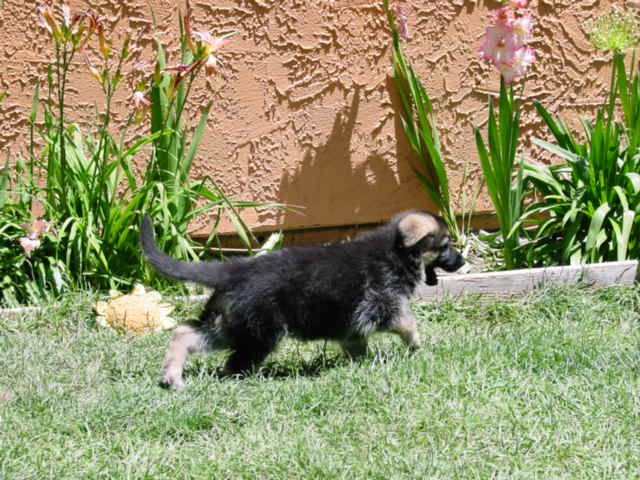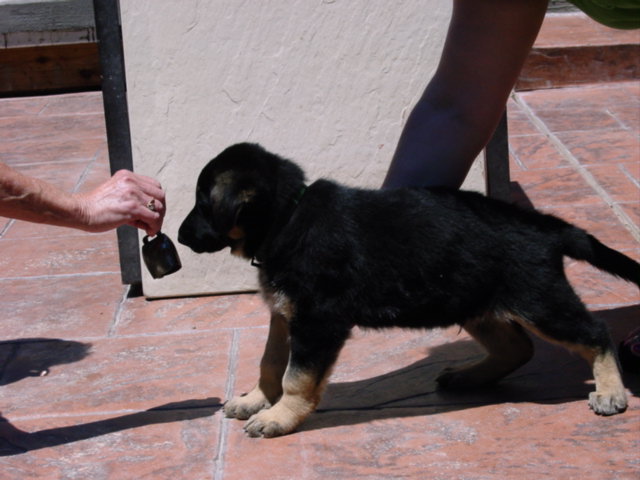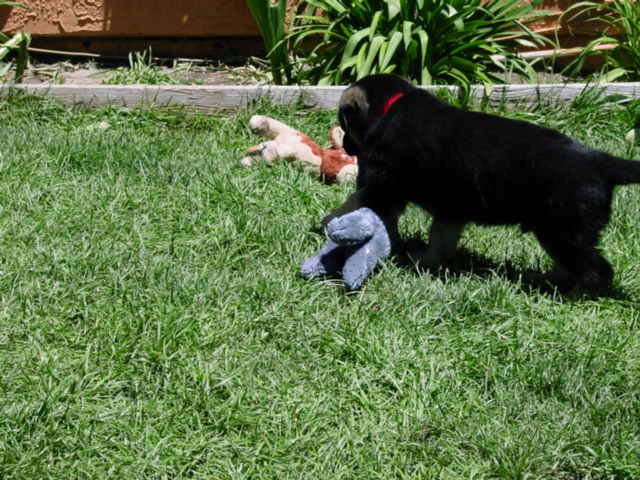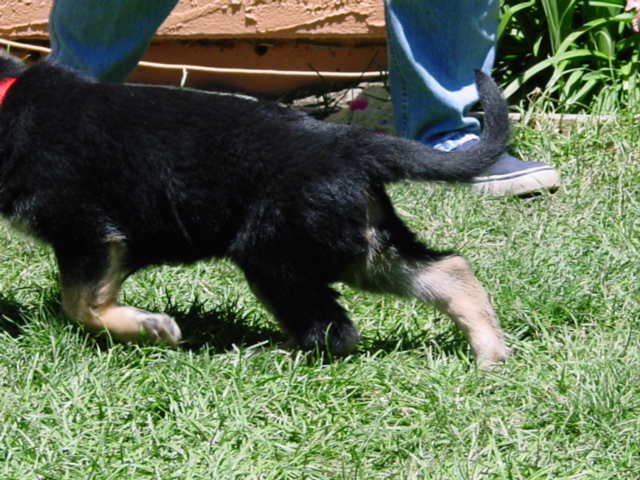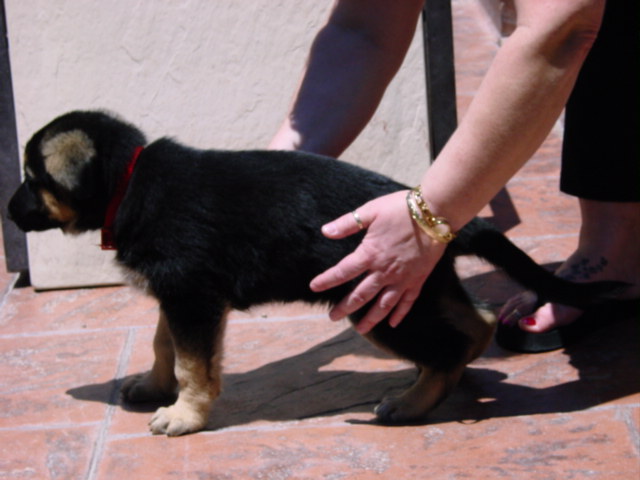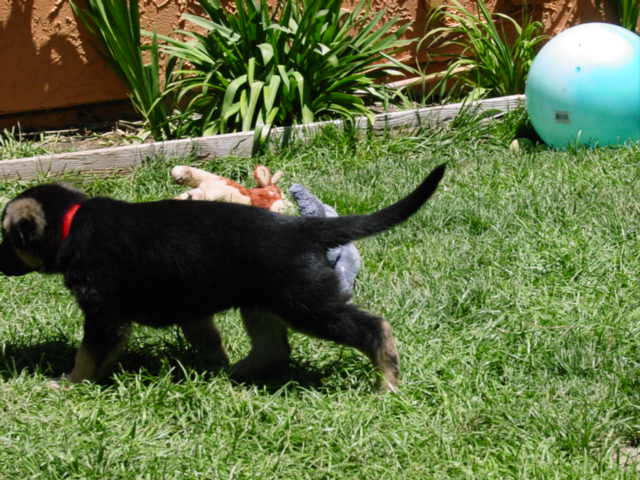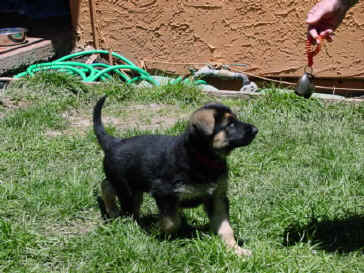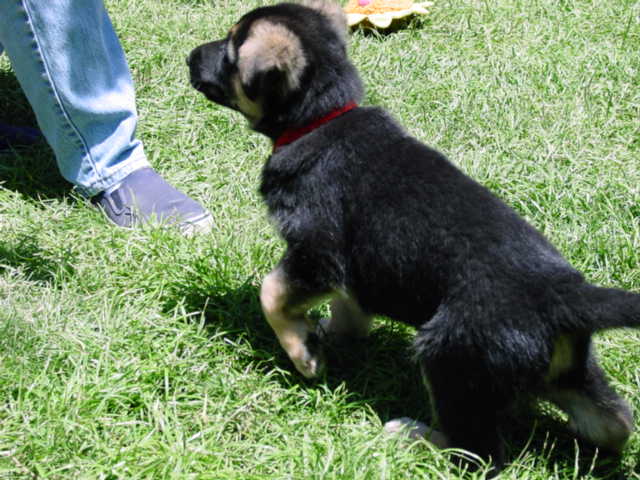 Update June 28th:
On June 25th and June 26th, we had some more socialization of the puppies. Here
are some pictures from that visit to socialize the puppies.
Here are Mike, Teri and one of their daughters, Sharon: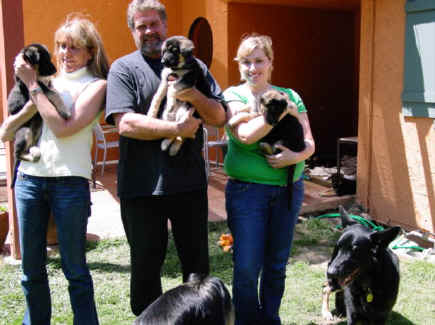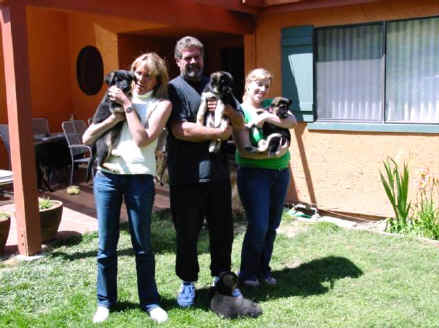 Here are Ace and Corrine: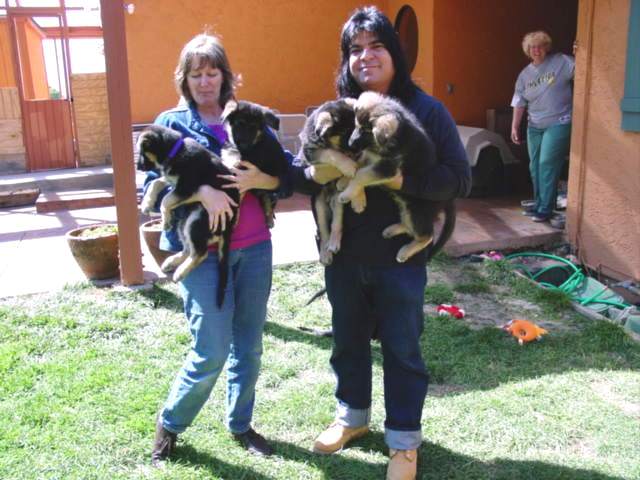 On July 7th, another of the families that are getting a male puppy came over. Here are Pierre,
Martha and one of their sons John-Pierre: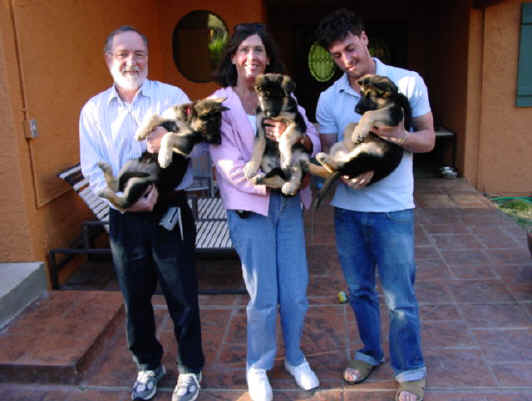 July 8, 2005: The puppies are 9 weeks old today and one of the 7
is leaving for its new home today. We took these last pictures of them
all together in the morning. Notice the ears are all starting to go up
or show very good indications that they will be up soon all on their
own. Another puppy goes to his home soon. Both of course
are going to very good homes and will have wonderful companion lives.
This has been a very vigorous litter and I would hope that perhaps
the two homes will strongly consider competing with their dogs in Herding,
Agility, Obedience or Tracking.