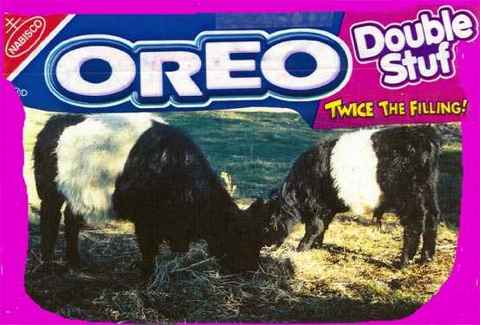 Belted Galloway meat is very tender and flavorful even though it has a medium amount of fat as it has a small grain pattern. Refer to the links below for the various Belted Galloway web sites for a lot of information on this very old Scottish breed. We have found that they do very well on our hilly, rugged ranch land and that they are docile and have their calves with a minimum of trouble.
Once a year we butcher one or two steers, keep some for ourselves and offer the rest to people who want something that is healthier than the meat found in their regular supermarkets. We sell the meat by half a steer.
Details on half a steer:
Whole steer 850 lbs
results in a hanging weight of 510 lbs
and less processing waste 102 lbs
Meat Total 408 lbs
and thus half a steer equals 204 lbs
Meat Total is composed of:
Ground Beef 60 lbs
Roasts, Steaks, Ribs & Misc. 144 lbs
Total 204 lbs
Ground Beef is $2.00 lb x 60 lbs, or $120
Roasts, Steaks, Ribs & Misc.
are $3.00 lb x 144 lbs, or $432
Total $552
Cost includes cutting to your specifications, packaging into small portions (e.g. 2 steaks per package) (double wrapped to last longer), and ready for pick up in Moraga, CA.
Purchaser can specify thickness of steaks (e.g. 3/4", 1", or 1 1/2") and size of roasts. You will end up with around:
Steaks: 4 sirloins, 8 fillets, 2 london broil, 3 top round, 1 flank, 12 new york and 6 rib eye. (36 total)
Roasts: 2 bottom, 2 sirloin tip, 2 cross rib, 5 chuck, 1 rib (12 total)
Misc.: 8 cube steaks, 10 short ribs and 7 lbs of stew meat.
Please call us at 925-377-6416 to reserve your half a steer.
Links to Belted Galloway web sites that supply additional information about the breed and the quality of the meat:
Western Belted Galloway Association
Belted Galloway Association of the U.S.