Sorry, no new puppies until 2009 but ask us about availability of adult dogs.
Approximately every three or four years we have puppies available and will place you on a waiting list if you desire. Because of the bloodlines we use, it is extremely unlikely that our puppies will have "hip" problems but we do supply a guarantee of your purchase price being returned and you may keep the dog. We are always looking for quality companion/pet homes so we can continue to pursue our hobby of raising and showing GSDs, since we cannot keep them all! Your support allows us to continue in this effort of helping to maintain the GSD breed the way it should be. Our dogs grow up on and have the run of a 6 foot tall chain-link fenced 33 acre ranch that contains our Belted Galloway cattle (along with raccoons, skunks, squirrels, foxes and other wild critters). We believe in the "Total Dog" concept and thus our dogs not only look beautiful but they act and move like German Shepherds should. We also make great efforts to make sure the sire and dam bloodlines will mesh well so as to lesson any possibility of medical problems in the puppies. Our companion puppies sell for $1,400. We are members of the German Shepherd Dog Club of America (the AKC related parent club of local GSD clubs) and the local Diablo Valley German Shepherd Dog Club. We are signers of the parent club's and local club's Breeders' Codes. Our Web page offers you links to these clubs.
OLD NEWS: We did breed Hedy to a very suitable sire for her bloodlines: multiple American and Canadian Select Excellent Champion Kidd Carson ROM, OFA Good Hips and OFA Elbows. Peter and Hedy got on an American Airlines jet, flew to Chicago, drove 2 hours into Illinois and spent 6 days visiting Carson. See tab to the left Kidd Carson for more information on this great sire. See tab to the left Puppies May 2005 for more information on the litter. Also, see the tab to the left labeled Carson-Hedy Pedigree for the pedigree on this litter, which shows an extraordinary certified Hips and Elbows background. .
OLD NEWS: We are planning a new litter for 2005. A daughter of Smooth Sailin' says she will carry on Eagle Hill's bloodline, now that Sailin' is retired. From our 2003 litter, we will breed Eagle Hill's Sail Ahead, aka Hedy, to a suitable sire in March of 2005 which means some puppies can go to their new home in July of 2005. Hedy has the very rare OFA Excellent Hips and Elbows rating. She is an active, very athletic within AKC standard size female that we feel received lots of good genes from her mother and her father, Ch. Rocknoll's Mackinac. Besides companion homes, we are looking for homes that are interested in conformation showing of their puppy and also homes that would compete in AKC agility, herding or tracking with their new puppies. We do offer financial incentives to owners of our puppies where certain AKC titles are received.
Here is a picture of the bi-color Ch. Rocknoll's Mackinac, OFA Excellent Hips and OFA Elbows: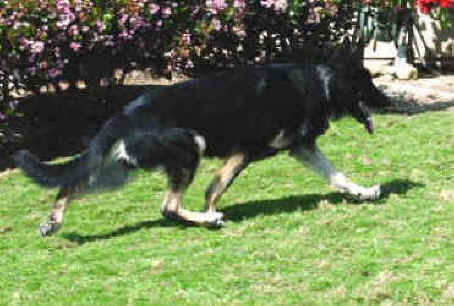 REAL OLD NEWS: We planned a Ch. Smooth Sailin' litter in 2003 with puppies ready for their new homes after June of 2003. Puppies were Black and Tan and Bi-Colors with some long coats. We bred Smooth Sailin' to Ch. Rocknoll's Mackinac (OFA Excellent and OFA Elbows) at the beginning of March 2003 after driving her to the San Diego area to meet her suitor. The puppies were born on Mother's day, Sunday May 11th, 2003! We had 6 puppies, 4 males and 2 females. See Puppies May 2003 tab for more information.
May 11, 2003 litter (Ch. Rocknoll's Mackinac/Ch. Asgard's Smooth Sailin' v Sabra). Here is their first picture: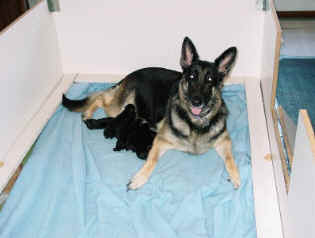 Here they are at 6 weeks: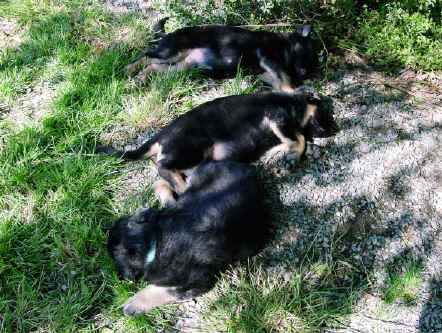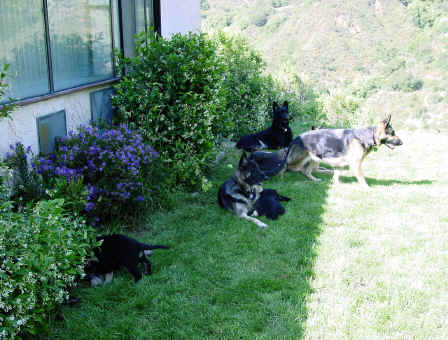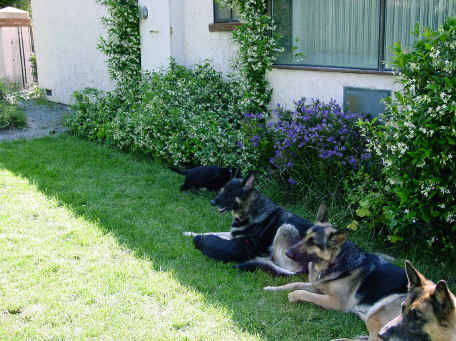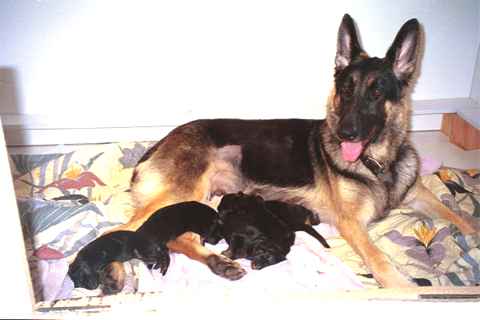 PS: Thinking about a new hobby? Being "guardian" of the breed may be something you should consider. We show dogs so as to definitely establish which are the "great" dogs, as only these should be bred. We would be pleased to discuss in depth all the pros and cons of this hobby, either by phone or at the ranch, or a dog show (see the AKC web site for information on upcoming German Shepherd Dog only "Specialty" shows.) We can assist you in finding very good professional trainers and handlers for the show ring.