Occasionally we have young adult GSDs for sale. Showing at the level we show at
sometimes results in dogs starting out with great promise for the show ring but for
various reasons not reaching the levels we strive for. These are excellent family/companion/pet
dogs and we place them in excellent homes. All of our dogs live in our house and thus are
housebroken and don't chew...much better than a puppy!!! Generally, these dogs
are available at very reasonable prices.
Will dogs say over 9 months old bond with new owners? Yes-if you can wait one week! It is
amazing how fast they can bond. When we first started out in shepherds, we purchased a 4 year
old ex show dog and within 3 weeks he had bonded with us. Another example: look at all
of the "service" dogs (e.g. seeing eye dogs, etc) that bond with their new owners after they
have been trained by the service dog organizations.
Thus, if you are interested please email or call us to see if we have the right older dog for you.
This photo is an example of a young German Shepherd Dog, here at 9 months: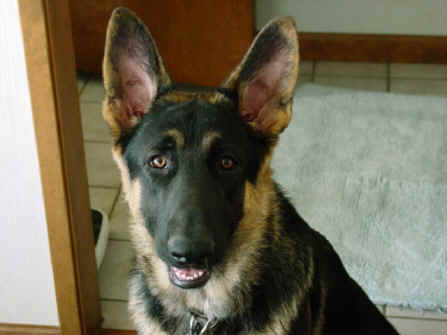 Here is an example of the smooth, ground covering gait that our dogs have: :
Eagle Hill's Ich Bin Sailor Guy aka "Skipper", one of our bi-color males.
DOB July 30, 2001.
(Ch. Dean out of our Ch. Smooth Sailin')
On March 16th and 17th, 2002 at the Diablo Valley German Shepherd Dog Club shows Sailor Guy (Skipper) won his 6-9 puppy dog classes, his first dog shows, in large, quality classes. The judge on March 16th was Rita Sandell and on March 17th Peggy Douglas.
Here are some pictures taken that weekend, including the rather wet Sunday show, when Skipper was only 7.5 months of age: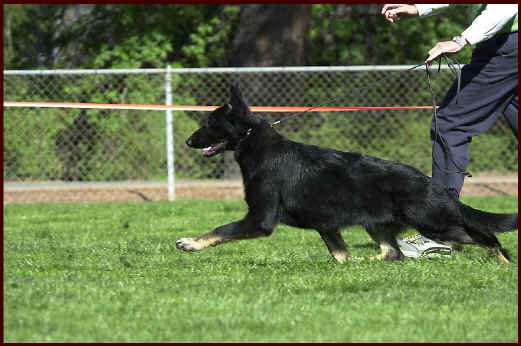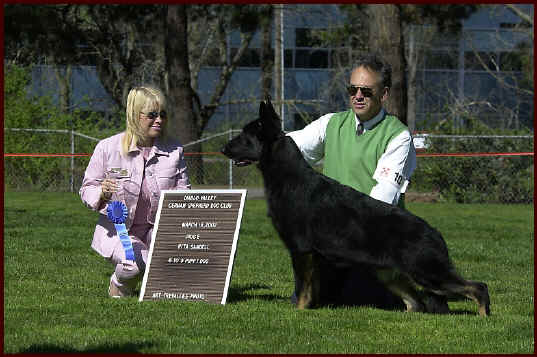 Skipper wins more 6 to 9 Puppy dog GSD classes. On April 20, 2002 the judge was Peggy Lee at the GSD Club of San Gabriel Valley and on April 27, 2002 and April 28, 2002 at the GSD Club of Sacramento Valley, the judges were Twyla Miner and Bud Drew. Here is a photo from the April 28, 2002 GSD Club of Sacramento Valley show, at a few days short of 9 months: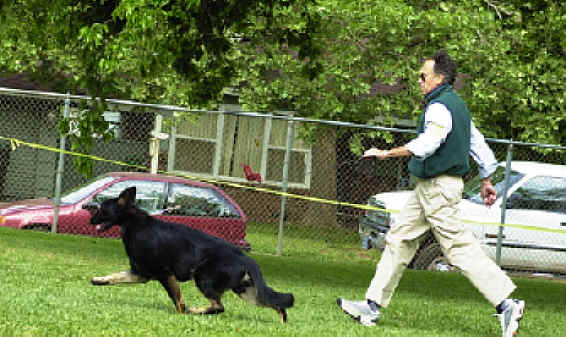 On June 2, 2002, Skipper won the 9 to 12 Puppy Dog Class at the Golden State German Shepherd Dog Club of San Jose at the age of 10 months. The judge was LaMar Frederick. Recapitulation of Best Puppy wins: March 16, 2002, Diablo Valley GSD Club, Judge Rita Sandell; April 20, 2002, GSD Club of San Gabriel Valley, Judge Peggy Lee and June 2, 2002, Golden State GSD Club of San Jose, Judge was LaMar Frederick.
2004 pictures of Skipper: